This Week: 1-2
Last Week: 6-0
(Including
the TNF game
)
Season: 37-20 (65%)
The largest bet I made this year was, surprisingly, on a basketball game. The game was on November 7th when the Toronto Raptors visited the Dallas Mavericks. After comparing lots of advanced stats (in favor of Dallas), and considering other factors (Toronto's 4th game in 5th night, injury to Kyle Lowry), I took the Mavericks at -5.5 ATS. I was extremely confident about that pick. It made me feel even better when the line quickly moved up to -7 in favor of the Mavericks.
Dallas was in control from the start taking a 12 point lead at the end of the first quarter. They were up by 12 with about 8 minutes left in the game. They were close to putting the Raptors away on several occasions yet the Raptors refused to surrender and covered by half a point! I was absolutely devastated. I am sure you have some bad beat stories. Share them in the comments section.
This is what makes sports wagering so exciting yet so gut wrenching at times. This is just a reminder that if you tail my picks, please do so responsibly. We'll all be better for it.
Here's a South Park clip of Canadians interacting. I just want you to know that you are all my friends, buddies and guys :D
I am off to a slow start this week, going 1-2 on my Thanksgiving Day picks. I have realized that I am more adept picking ATS as opposed to totals. Rest assured, I will be making adjustments as I evolve as a prognosticator. Let's strike it rich friends!
Steelers -1.5 @ Browns
Even without Ben Roethlisberger, the Steelers were competitive last week against division leading Ravens. Charlie Batch, the 3rd string QB for the Steelers will be the started this week. Since 2010, Charlie Batch has won 3 of his 4 starts. Batch may not carry his team to victory on his own, but he will not lose it for them either. The duo of Jonathan Dwyer and Rashhard Menedhall will be asked to provide the bulk of the offense. The Browns have struggled stopping the run allowing 5 rushing touchdowns in their last 4 games.
On the other side, Brandon Weeden will be leading the Browns at home after a deflating loss to the Cowboys. As expected from a rookie QB, Weeden has had his ups and downs. It is however about to get a lot worse for Weeden. From
Walter Football
"
Dick LeBeau (Steelers DC) is 17-1 SU vs. rookie quarterbacks
" He will get looks against the Pittsburgh defense that he has not yet seen as a rookie. Pittsburgh D has allowed an average of 15 points per game in its last 5 games, including games vs. the Redskins, Giants and Ravens. The Steelers are allowing a league best 5.9 passing YPA (yards per attempt) and 3.8 rushing YPA, 5th in the NFL respectively. Even though Trent Richardson is too talented to be completely shut down, he will not have a stellar game this Sunday. This game will be dominated by the defense with Pittsburgh's D coming out on top.
Dick Lebeau is 17-1 SU against rookie QBs.
Titans -4 @ Jaguars
While I was researching the Jaguars last week before adding them as a late pick, I noticed that they were 4-0 ATS on the road and 0-5 ATS at home. I then decided that if the Jaguars played well against the Texans, I would fade them the following week at home. The Jaguars play well on the road thus diminishing the spread; then they get blown away at home and the spread inflates right back. This pattern will continue against the Titans.
Chris Johnson finally resembles the Chris Johnson of 2009. In his last 4 games, he has averaged 142.0 rushing YPG and 7.2 YPR. (yards per rush). Jacksonville has allowed a mediocre 4.2 rushing YPA and 14 rushing touchdowns (30th in NFL). Simply put, the Jaguars will not be able to slow CJ2K on Sunday.
Unfortunately for the Jaguars, Chad Henne and Jalen Parmele are starting on offense. A week ago, Chad Penne performed flawlessly and nearly upset the Texans on his own. It will be near impossible to repeat that performance even against a Titans secondary allowing 7.7 passing YPA (27th in NFL). The Titans are coming off the bye and they will be prepared to face Henne. Tennessee is clearly the superior team here and getting them at -4 is good value.
Rams +1.5 @ Cardinals
Prior to last week's game against the Jets, Sam Bradford was beginning to get on a roll averaging a QB rating of 91.7 in his previous 4 games. Sam Bradford must limit his turnover in order to give his team a chance to win. Bradford must be vigilant because the Cardinals are 4th in the NFL with 14 interceptions. Steven Jackson, who recently ran for over 100 yards against the 49ers, will be trusted to carry the load Sunday.
Getting the start at QB for the Cardinals is Ryan Lindley. He is starting because his O Line is atrocious and can't protect the QB, not because of merit. I hope he has a solid insurance plan because he's about to get thrashed. Last time these two teams met, Kevin Kolb was sacked 9 times. The Rams are 9th in NFL with 27 sacks and they rush the QB forcefully. Chris Beanie Wells is returning for the Cardinals but his potential has always been greater than his results. The Cardinals cannot score sufficiently with the personnel they have on offense. I will gladly take the Rams as underdogs.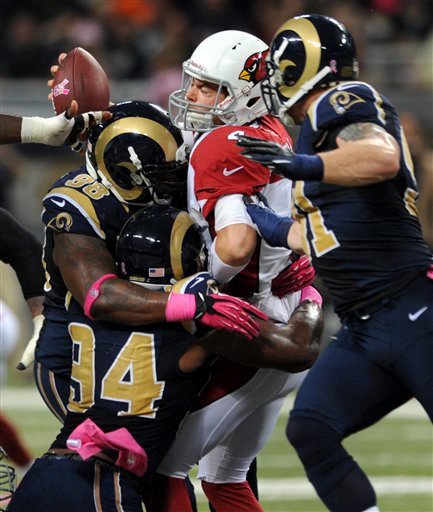 This is what happened to Kevin Kolb last time the Rams played the Cardinals
Saints +1 vs. 49ers
I like the Saints this week for the same reasons that I liked them
last week
. After losing some very close games early on in the season, this team has shifted gears. Drew Brees is on fire, Jimmy Graham and Mark Ingram are healthy, and the wide receivers are consistent. According to
TeamRankings.com
, the Saints are the most efficient team in the Red Zone, scoring a touchdown on 71% of their chances. Simply put, the Saints come out with 7 points on most occasions when they are in the Red Zone. Although the 49ers have some great defensive numbers, they are 16th in the NFL in Red Zone defense allowing a TD in 52.6% of occasions.
Colin Kaepernick was phenomenal a week ago. The Bears were surprised by how calm Kaepernick was under pressure. The Saints will be better prepared to face Kaepernick after watching his last start on tape. Frank Gore is silencing his critics who have questioned his durability this season. Gore is averaging 5.3 YPC (yards per carry) so the Saints need to emphasize stopping the run. The Saints allow a ton of yardage both against the run and pass. They allow 5.1 YPA against the run and 8.5 YPA against the pass, 31st and 32nd in the NFL in respective categories. However, the Saints D is competent in the Red Zone allowing a TD on 53% of occasions (17th in the NFL). The Saints D will continue to get enough stops to give themselves and their offense a chance to win. Give me the home underdogs Saints!
Drew Brees will look to lead his team past a strong 49ers defense
I look forward to your feedback and comments. Make sure to check out the comments section to see the interesting picks my friends and readers have posted here.
Thanks very much for reading and please be sure to follow my blog and share it with your friends. Good luck with your bets friends
@omie_g