Last Week: 1-4
Season: 40-29 (58%)
I just had my worst week of football handicapping so let's turn things around quickly. Following mediocre week 12 results, I made some minor adjustments to my handicapping methods and it did not yield the results I was expecting. I am returning to the process that brought me much success in the early parts of the season. I truly appreciate the support during these times.
As you may expect, my largest audience comes from the United States and Canada. But you may be surprised to hear that my third largest audience is from Australia with Mexico and New Zealand close behind.
To celebrate the international flavor of my audience, I have decided to have a fun contest. I will dedicate next week's blog and its theme based on the country of my largest audience (outside of Canada and US) during this week.
Share with your friends and pass the word and watch your country be represented in here. May the best country win :)
Patriots -4 vs. Texans
Both teams match up fairly evenly in this MNF tilt. The Patriots are scoring at a league best clip of 11.9 yards per point (YPP).
The Texans trail nearby scoring at 13.2 YPP (4
th
in the NFL). A reminder that a low number is best for offense, as the fewer yards the team needs to travel before scoring, the better.
However, you may be surprised to hear that the Patriots and the Texans are practically dead even on defense, in terms of YPP. The Patriots are conceding 17.6 YPP to the Texans 17.5 YPP, 7th and 8th in the NFL respectively. Therefore, no real edge can be found on defense between the teams in terms of YPP.
The Texans bread and butter on offense is their running game. They attempt a league high 34.4 rushing attempts per game as it helps Matt Schaub set up the potent play action pass. Nonetheless, despite all the passing yards the Pats surrender, they are quite adept at stopping the run allowing merely 3.9 rushing YPA. The Patriots will be able to restrict Arian Foster to a modest rushing total, making life more difficult for the rigid Matt Schaub.
From
Oddshark.com
, '
The Texans are 0-4 ATS in their past 4 MNF games… The Patriots are 4-0 ATS in their past 4 MNF games
.' Tom Brady and Bill Belichick thrive under the spotlight but the same cannot be said about Matt Schaub and the Texans. Another advantage for the Patriots, according to
Jason Lake at SBR Forum
'
In special teams, the Pats are ranked #2 and the Texans #32
'.
Give me the Patriots, and I'll give you the four points!
Texans, Patriots 'Under' 52.5
3 angles for taking the 'Under'
The weather forecast is predicting a 90% chance of precipitation in Foxboro from 8 pm to midnight. We all know that teams take a conservative approach on offense during inclement weather. Both teams will run more often to protect the ball, grinding down the game clock.
I get the sense that the Texans will emphasize their running game not only for the weather, but to also limit the Patriots time of possession on offense. The Giants used a similar ploy against the Redskins last week to limit RG3's firepower and the 'Under' cashed in comfortably. Look for a similar tactic from the Texans tonight.
From VegasInsider.com, the 'Under' is posting a 27-14 (66%) record in games played under the lights this season. With an elevated total of 52, and the match up and weather conditions, I'm taking the 'Under'!
Eagles +8 @ Buccaneers
Coming off consecutive tough losses, look for the Buccaneers to be flat to start the game. Doug Martin seems to be fatiguing as he has rushed for a paltry 2.7 YPC (yards per carry) in his last two games. Martin has attempted 236 rushes, 3rd most in the NFL, which is taxing for any running back, let alone a rookie. The Eagles run defense has stepped up of late allowing only 3.9 rushing YPA (yards per attempt) in their last three games. The key for the Eagles D will be to limit big yardage plays.
Josh Freeman will not be restrained versus the Eagles secondary allowing 7.8 passing YPA with just 7 interceptions and 20 sacks. The Eagles have been torched by opposition QBs, allowing an average passer rating of 98.8 (28th in the NFL) against them. However, if the Eagles are able slow the 'Muscle Hamster', they will have better success against the pass.
Nick Foles will be on a mission to silence his critics on Sunday
Andy Reid has decided to stick with Nick Foles as his starting QB for the remainder of the season. Foles showed glimpses of promise last week, and the vote of confidence from his coach will do wonders for the rookie's self-esteem. Foles who threw for 251 yards with a QB rating of 96.6 in his last game against the Cowboys should be able to repeat his performance against a Buccaneers defense allowing 8.2 passing YPA (30th in the NFL).
The most intriguing factor in this match up will be Bryce Brown vs. the Bucs run defense. One of NFL's hottest rusher is facing the NFL's toughest run D, surrendering a league best 3.4 rushing YPA. Nevertheless, against two of the better RBs in the NFL, Alfred Morris and Adrian Peterson, the Bucs allowed 266 rushing yards in 36 attempts, averaging a whopping 7.8 YPA. Although I am not comparing Bryce Brown to those two, he has the skill set to be successful against the Buccaneers.
The coolest trend I encountered this week applies to the Eagles and Cardinals and comes from
WalterFootball
, "
Underdogs that have lost five or more games in a row are 102-58 against the spread dating back to 1989, if they lost their previous game by eight points or fewer
." Additionally, according to
Oddshark.com
,
The Eagles are 10-2 ATS as dog of 8+ points since 1999
'. Although I foresee the Buccaneers winning this contest, the Eagles offense will keep it close and cover.
Redskins -2.5 vs. Ravens
It's hard not to get excited by what Robert Griffin III is doing for the Redskins and the city of Washington. Ever since their bye week, the Redskins have won three straight games, beating two quality opponents in the process. During this streak, the offense has been flourishing averaging a mammoth 10.2 passing YPA and 5.4 rushing YPA, both top 3 in the NFL respectively. The return of Pierre Garcon has added another dimension to this offense led by RGIII. Terrell Suggs will likely miss the game with torn biceps, meaning more time and space for RGIII and Alfred Morris to work their magic.
Is there anyone in Football more exciting than RG3 at the moment?
Joe Flacco wants to be considered an elite QB but his numbers suggest otherwise. Flacco has notable home stats averaging a QB rating 100.7 with a 11/4 TD/INT ratio. On the other hand, Flacco's road numbers are downright ugly with a 70.2 QB rating and a 4/4 TD/INT ratio. Additionally, the Redskins pass defense has been much improved over their past three games conceding 6.2 passing YPA. With Flacco's road struggles, the Redskins defense will be able to focus their efforts on Ray Rice and reduce his effectiveness. Unfortunately for the Ravens, their inept offensive coordinator Cam Cameron still has not figured out how to properly utilize Ray Rice. It is inexcusable for a talent like Ray Rice to average only 16.5 rushing attempts per game.
Look for the Redskins to move the chains with ease on offense while restricting the Ravens offense and cover for the 4th straight week.
Bears -2.5 @ Vikings
The wheels seem to be coming off Christian Ponder and the Vikings. They have lost four of their past five games since their hot start. They get to play a motivated Bears team that usually plays them tough.
The Bears are 6-0 SU and ATS vs. the Vikings over their past six meetings
.
Despite Adrian Peterson's dominating play over his past five games, averaging a gigantic 8.1 YPC and 158.8 yards per game, the Vikings have scored only 19 PPG while conceding 28.2 PPG over that span. Christian Ponder has regressed since the start of the season and has a knack of making costly, untimely errors. The Vikings sorely miss Percy Harvin's play making abilities as their offense has become one dimensional. The Bears defense, which labors stopping the run allowing 4.5 rushing YPA, will set their sights on slowing Peterson and force Ponder to beat them. Unfortunately for Ponder, the Bears lead the league with 20 interceptions and despite last week's injuries to Brian Urlacher and Tim Jennings, the Bears D will create havoc for Ponder.
Chicago has also been in a rut losing three of its past four games. Jay Cutler's injury clearly had something to do with it. Cutler has played very well since his return from injury, reestablishing the chemistry he has shown with Brandon Marshall. Look for this duo to strive against the Vikings secondary allowing 7.2 passing YPA over their past three games.
Expect the Bears D to force Ponder into making errors and Cutler and company to cease their opportunities and cover.
Cardinals +10.5 @ Seahawks
I am aware of Seattle's 5-0 ATS home record and I am certain that they are the superior team in this match up. However, the elevated spread makes the Cardinals a solid value selection.
According to
Rotoworld.com
, John Skelton will return as the Cardinals starting QB, a clear improvement over the woeful Ryan Lindley. Skelton has kept his team in majority of the games he started. Moreover, the suspension to Seahawks CB Brandon Browner will be a detriment to Seattle's secondary, making them slightly more vulnerable.
Arizona's defense has been one of their lone bright spots this season totaling 19 interceptions and 33 sacks, both top 8 in the NFL respectively. The Cardinals rank 4th in the NFL with 2.4 takeaways per game. Arizona's defense is adept in the red zone allowing opponents to score a touchdown at a lowly rate of 42%, 3rd in the NFL. They will put pressure on the Seahawks offense and they will not surrender any cheap points to a surging Russell Wilson and company.
The above mentioned trend, "
Underdogs that have lost five or more games in a row are 102-58 against the spread dating back to 1989, if they lost their previous game by eight points or fewer
", also applies to the Cardinals. In a divisional match up, the Cardinals will be able to keep it close enough to cover the large spread.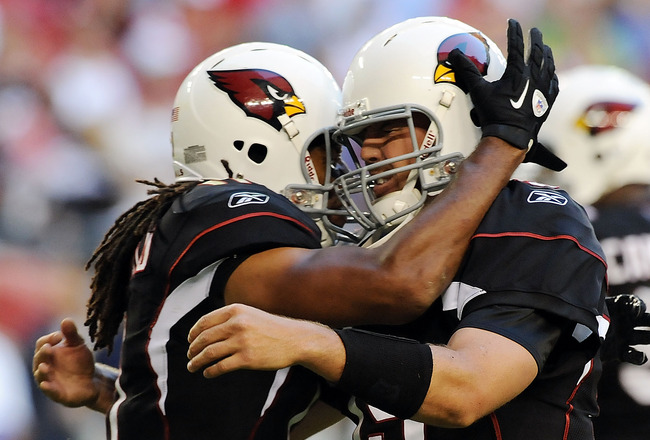 Larry Fitzgerald should be relieved to have John Skelton back as his starting QB.
I look forward to your feedback and comments. Make sure to check out the comments section to see the interesting picks my friends and readers have posted here
.
I will also add my additional plays and teasers in the comments section.
Thanks very much for reading. Good luck with your bets amigos!
Random WAG photo: Eric Decker's fiancee and country singer Jessie James
Happy Winnings,
@omie_g